Posted on | July 17, 2017 | Comments Off on Apple iMac Cracked Screen Repair & Fan Clean
One very unhealthy 27″ Apple iMac, badly cracked front glass and fans completely blocked with dust causing it to overheat and switch off.  Stripped the iMac down and removed the logic board to get to the fans, cleaned out both fans and vents. Re-assembled the iMac and replaced the front glass with new and it's ready to return to it's very happy owner, all done in under a week and at a reasonable price!
Posted on | June 5, 2017 | Comments Off on Apple iMac Power Supply Repair
Apple class any of their products over 5 years old as vintage and provide no hardware service as the owner of this iMac found out when it stopped switching on. They brought it to me and after stripping it down and replacing the faulty power supply which had a blown capacitor with a new one it's good to go again.
Posted on | April 9, 2014 | Comments Off on The CryptoLocker Virus – What is it? How does it Spread? What can I do about it?
What is CryptoLocker?
CryptoLocker is a ransomware virus; released in September 2013, the virus encrypts files such as Microsoft Office documents and pictures amongst many others, not only on your PC but any attached backup/USB drives.  When it's finished encrypting your files, it displays a CryptoLocker payment program giving you a limited time period to pay the ransom or it will delete your encryption key leaving your files permanently encrypted.
What happens if you are infected?
It is impossible to decrypt files without a secret key, if you have no clean backup it leaves you with no choice but to either pay the ransom or lose your files forever.  The National Crime Agency does not endorse the payment of a ransom, some users have reported that paying the ransom starts the decryption process leading to the recovery of files others have reported problems after payment.
How does it spread?
The virus is typically spread through emails pretending to come from companies such as Fedex, UPS, DHS, etc.  These emails contain an attachment that when opened infects the computer; the attachments are often disguised as PDF or ZIP files.
How do I stop myself getting infected?
Do not open suspicious emails, attachments or links.
Always keep run an up to date Anti-Virus program running and make sure USB sticks/drives are scanned when you attach them.
Make sure your operating system and applications are up to date and fully patched.
Regularly back up your data and don't leave backup drives plugged in. Cloud backup in combination with local backups are a good idea.
How do I remove it if I get infected?
I would advise taking the PC and any other devices that might have been infected to a professional who will be able to make sure they are completely clean of the virus.
If you have any questions about the above or would like some advice on security and backups please don't hesitate to contact us.
Posted on | September 16, 2013 | No Comments
The recent Microsoft update KB2589275 has broken file associations for Office applications on computers running Windows 7
I have recently had quite a few machines come in where the owners can no longer open word files after a recent update, the icons for all the files turn orange instead of their normal blue colour.  When trying to open the files you are asked to activate or buy the software despite having already purchased it. Errors when double clicking files include "activate, buy or try" and "The Microsoft Office product necessary to open this file is not installed on your computer".
To fix this problem you need to uninstall the recent Office program that was installed this month (Sept 2013) from the programs and features control panel, once uninstalled reboot the computer and after your Word icons will turn back to the normal blue colour and you will be able to open documents again.
If you have any problems you can Contact Us here at Bluefish and we can guide you through the process.
Posted on | March 25, 2013 | Comments Off on Support for Windows XP is to end in April 2014, what does this mean for you?
If you are still running Windows XP you need to be aware support ends on the 8th April 2014, this means Microsoft will no longer issue security patches, windows updates, software fixes or offer technical assistance.
So what does this mean in non-technical terms?
From that day you will no longer receive security updates leaving you open to viruses and malicious software that can potentially steal your data, mess up your information or steal money from you.
Am I running Windows XP?
If your not sure you can check by pressing the start button and in the search box typing "winver" and pressing enter. An "About Windows" box will be displayed with your Windows version in it. You will either have Windows XP, Vista, Windows 7 or Windows 8.
So what should I do about it?
If you are running Windows XP it's my advice to replace your computer before April 8th 2014, nobody should be running a Windows XP computer which is connected to the internet after that date. You should replace it now or start planning to replace it with a new Windows 7 or 8 computer.
Can't I just upgrade my old computer?
It might be possible to upgrade your old computer from Windows XP to Windows 7 or 8 but I would advice against this for the following reasons:
If you are running Windows XP it's likely your computer is at least 5 years old. A computer this age is unlikely to have enough processing power or memory to keep up with a new operating system.
Even if you can upgrade you will have a far better user experience purchasing a faster and more reliable system than you would do running an old slow system.
If you choose to upgrade you will still have to purchase an Operating System and hope that the hardware you are using is compatible.
Do you sell / upgrade computers?
Yes, we sell brand new Windows 7 or 8 desktop PC's and laptops. We can help you transfer your data such as documents, music, photos and emails over to a new computer and help set it up to use your Internet connection, printer and other devices. We can also provide advise on security and backup options, whether you decide to upgrade your existing computer or purchase a new one we have a solution available.
Do you still repair Windows XP Computers?
Yes for now as some software will only run on XP and the PC's may not be connected to the Internet, I still perform repairs and small upgrades on Windows XP computers, we perform these services regularly but when a problem is more serious like a failed hard drive or bad motherboard then it is likely to be more economical to upgrade to a new computer.
Please feel free to Contact Us for some friendly advice.
Posted on | August 12, 2012 | No Comments
Every now and again here at Bluefish Computer Services in Chichester we get a call from someone who has spilt liquid onto their laptop keyboard.
  A lot of the time they are completely unaware what to do and how best to sort out the situation. So I thought it's a good idea to write a quick note on the best course of action to take.
First thing, accidents happen all the time, don't panic but you will need to act fast as things can get worse if the liquid is allowed to spread. I recommend the following steps are very quickly taken:
Take out the mains power supply & remove the battery, the faster the power can be removed the less likely you are to have a short circuit. Don't worry about closing programs and shutting down just pull the power asap.
Turn the laptop upside down, preferably on top of a towel with the lid open and the keyboard resting on the towel.
Seek the advice of a professional who can disassemble the laptop, check how far the liquid has penetrated and confirm if any components have been damaged.
The amount of damage will depend on the volume and type of liquid that was spilt. In the event the liquid contained sugar or acids (coffee, tea, beer, juice etc..) then it is likely the keyboard will require replacing. In the event a significant amount of liquid has been spilt then it's possible the liquid could spread around the keyboards protective membrane and further into the laptop. If the liquid comes into contact with the motherboard or other internal components they will require cleaning and further drying.
Whatever you do don't try the following:
–          Turning the laptop back on again without allowing sufficient time for the laptop to dry. (We recommend the laptop is checked over by a technician rather than hoping the laptop has dried out)
–          Trying to dry the spill with a hairdryer. This can cause problems with static and could cause the liquid to be pushed further into the laptop.
–          Using water to try and clean off any sticky liquid. You'd be surprised at the things we see!
In most cases when a small amount of liquid is spilt only the keyboard requires replacement. Even when a large amount of liquid has been spilt it is quite often possible to clean and dry the internal components affected and return the laptop back to normal operation. Even in the worst case scenario when the motherboard has been damaged beyond economical repair then it is highly likely that the data on the hard drive is still readable and can be transferred to a different machine.
If you require help with a spill or any other problem please feel free to contact us. We have a vast amount of experience repairing computers and we ensure every case we see is handled with the upmost care and attention to detail.
Posted on | July 15, 2012 | Comments Off on Virus Problems – Fake Anti Virus and Ransomware
The last few months here at Bluefish Computer Repairs in Chichester have seen a dramatic increase in the amount of virus calls.  The amount of calls related to Fake Anti-Virus and Ransomware in particular.
So what are these things?
Fake AntiVirus is just what it says on the tin, it's a fake Anti-Virus program which pretends to scan your PC for malware/viruses/Trojans and then informs the user they are infected before informing them they can remove the threats by purchasing a full version of the program, see the image below for an example of what it looks like.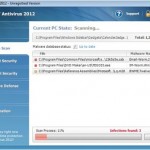 Ransomware is a program which infects a users computer and then demands money is paid to the creator of the program in order for the restriction to be removed.  One of the most common forms we have seen lately is the "Metropolitan Police" ransomware program.  Which informs the user they have been caught looking at illegal websites and then demands payment by ukash the image below is an example of ransomware.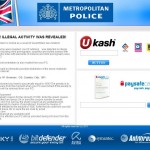 After being infected users are left unable to close the program, unable to run additional programs, finding they are redirected to different websites when opening a browser, finding their pictures/documents/music /start menus/desktop files etc. missing.
Why are these programs created? Well purely for profit, despite the poor English and seemly obvious fake nature of these programs some people still pay the money to try and get them removed!  These programs are big business for cyber criminals and once you hand over your payment details you're in for a whole heap of trouble!
So how do you get infected?  Here are some of the most common reasons:
–          Not keeping up to date with Windows updates, this leads to programs finding holes in your operating system.
–          Not applying updates to your programs, this leaves holes in programs like Adobe Reader, Java, Flash etc.  Then when opening PDF attachments or visiting an infected Java/flash website the user is in turn infected.
–          Spam emails, people open emails pretending to be from tax authorities, banks, parcel delivery companies etc.. and are then infected by opening an attachment or visiting the website link to an infected website.
Why didn't my anti-virus stop it???  Almost always one of the first questions asked.  I won't mention names but despite the claims and cost of some of the most popular anti-virus programs on the market they end up being a complete waste of time.  Quite often the virus disables and even removes parts of the anti-virus program rendering it useless.  I only recommend and sell one anti-virus program which is Kaspersky, in my opinion the best on the market.  It always finds and removes malware.  I never ever get a machine back with a virus that has had Kaspersky installed on it and I think that speaks for itself.
What do I do when I have a virus?  There are many guides on the internet you can use to try and remove a virus yourself and some are pretty good but I would always advise someone to seek the help of a professional.  Why?
–          A lot of malware either hides or moves a user's files quite often to temporary directories.  I have seen quite a few cases recently of people trying to remove a virus only to end up permanently deleting their data.
–          We always create a complete image of a drive prior to undertaking any work to remove a virus.  This is very important, malware is constantly changing and guides quickly become outdated.  By taking an image of a drive we ensure we can always return the disk to the state we first received it in and begin again should things go wrong.
–          Boot sector viruses and rootkits allow the malware to continue to reinstall itself even after the initial virus is cleaned.  It is important to remove every trace of the malware.
Here at Bluefish Computer Repair we remove viruses / malware on a regular basis, we also always advise on and complete the steps required to prevent re-infection.  Please feel free to contact us if you need any more information or help on removing or preventing a virus infection.
Also please also consider the absolute need to back up your important data on a regular basis!
Posted on | April 25, 2012 | Comments Off on Our 4 Most Common Laptop Repairs
Here at Bluefish Computer Services undertake a lot of Laptop Repairs in Chichester and the surrounding areas. Quite often it's not as expensive and complicated as many people think. Here are 4 of the most common faults we fix:
Failed / Failing Laptop Hard Drives
This is the most common laptop fault we fix; the symptoms are often different and often similar to other problems so without correct testing it can be difficult to diagnose.  Sometimes the laptop boots fine but everything runs very slow.  Other times the boot device is not recognised when the laptop is powered on.  Sometimes the hard drive makes unusual and noticeable sounds such as ticking or grinding noises.
Once you suspect that your hard drive might be failing then you need to switch of the machine and get it checked over by an expert.  Trying to use a hard drive that is failing can often make things worse.  In a lot of cases it's possible to recover important data from a failing hard drive without the need to send it away to an expensive data recovery firm.
Laptop Screen Repairs
Another bunch of very common faults we see are problems with the display on laptop screens, again the symptoms can be different.  A laptop screen that does not display anything or is very faint once the laptop is booted can be caused by the backlight in the screen failing or the inverter (small circuit board that controls the backlight) failing.
Often we see screens that display multi-coloured horizontal or vertical lines, have problems displaying certain colours, displaying pixelated images or flicker on and off when the laptop lid is moved.  These symptoms can be caused by a number of different reasons, such as the LCD cable being trapped or pinched, a faulty LCD, a bad GPU (graphics chip) on the motherboard etc.
We also repair a lot of cracked/broken screens, whether it's been dropped, trodden on or sometimes just when the lid is closed with a lot of force.
The Blue Screen of Death
Not specific to just laptops but we often get laptops in that display a blue screen when first started or at random times when in normal use.  Quite often caused by a faulty RAM chip, it is possible to check yourself if you have a bad RAM chip by swapping it for a known good chip or by removing one chip at a time if you have more than one.  It can also be caused by installed software, drivers amongst other things.
Laptop Virus Infections
Again not a laptop specific problem but virus infections on laptops is one of the most common faults we fix.  Most of the time it's fairly obvious when you are infected with a virus, you may be redirected to another website when trying to surf the Internet.  Quite often you are plagued by fake anti-virus pop-up messages telling you that there are problems.  You often are unable to install any programs and your documents and programs are missing from their normal locations.
If you are infected then you really should seek expert help as it's quite often possible to permanently delete your data from the directories it's been hidden in while trying to remove the infection yourself.
Should you need your laptop repairing, just need a quick quote or want to discuss your problem, please feel free to contact us.
Posted on | March 13, 2012 | Comments Off on Trading Standards – Buy with Confidence Approved Trader
Bluefish Computer Services are delighted and very proud to have been awarded the status of 'Approved Trader' under the Trading Standards approved Buy With Confidence Scheme. This ensures our clients that we are a credible company which has been independently vetted for our processes and business practices, ensuring you get the right service and pricing.

So what is the Buy With confidence Scheme?
The Buy With Confidence scheme was first launched by Trading Standards in 1999. The service was launched to attack the ever growing problem of "rogue traders" who prey on venerable and easy targets, giving poor service and high prices.
It is considered that Trading Standards has the right expertise and motivation to offer a scheme which offers genuine benefits consumers and businesses.
How do businesses become a Buy With Confidence Member?
In order to become a Buy with Confidence member, a business must first apply or be recommended to join the scheme and must then pass a set of tailored background checks.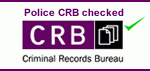 Membership of the scheme is not given lightly – amongst other checks, each applicant will have their complaints history reviewed and will receive a visit from Trading Standards to assess suitability and records. Good references are required from previous customers and applicants must agree to abide by the scheme's code of conduct. CRB Criminal records disclosure is also required.
Only if all the scheme requirements are met, will a business be granted membership, and their conduct will continue to be monitored thereafter by Trading Standards.
What does this mean to you, our client?
At Bluefish Computer Services, this award is highly valued as it gives our clients and our prospective clients the confidence that we will provide a superior job, at a sensible price and with great service. It is essential to stamp out "cowboy" operations in Computer Services and we recommend that you only use proven companies like Bluefish Computer Services to provide you the services you need.
So for an excellent reliable service, at a great price, contact us on 01243 216313 or [email protected]
Posted on | November 19, 2011 | Comments Off on Choosing the right computer repair company.
Every now and again I have customers come to me with computer problems that have been made worse by the previous "tech" they used. The last person who came to me had called a "computer repair engineer" he found in the small ads of a local newspaper after his PC became infected with a virus. Instead of cleaning the virus the tech guy performed what we call a "Nuke & Pave" which is a complete reinstall of the operating system, when he did the reinstall he used an illegal Windows license key and to make matters a lot worse when he installed the OS he managed to get it assigned to the "D:" drive letter instead of the "C:" drive.
These unscrupulous tech engineers often work for "cash in hand", have no ethics, would not think twice about installing illegal software on their customers computers, and do not posses technical qualifications or enough experience to have any chance of repairing the problem to the customers satisfaction. Often their customers are left with no comeback and end up turning to a qualified technician to correct the problems they created and sort out the original issues. The result is additional cost for the customer and the possibility of their data being lost forever.
So how do you avoid these fly-by-night computer repair people also known as "Pizza Techs" (computer techs offering to repair computers for enough money to pay for their beer and pizza!)? Check out this You Tube video for a classic example of what I'm talking about.
I would follow these key points when choosing an engineer:
Recommendations are key! We get most of our business from recommendations, we do little advertising because we don't need to. If you know someone who has used a computer tech and had a good experience then you should consider using the same person.
Query the techs qualifications and experience. Do they have vendor certifications? Can they show you them? Can they show you a CV? Can they provide you with multiple people willing to vouch for them?
Do they provide a land-line number and registered business address? Do they have a website address? Would you really give your computer over to a person who just provides you with a mobile number? Are they willing to provide proof of identity?
Can you pay by bank transfer or cheque? I would not recommend dealing with anyone only willing to accept cash.
Are they willing to provide a receipt for payment or any hardware they need to take away to work on in their workshop?
Do they have valid insurance? At a minimum they should posses Public and product liability. Ask to see a certificate.
Are they offering software or charging rates that seem to good to be true? It's not wrong to shop around for a good price but there are factors other than price to consider. Would you employ a builder to build you a house just because he was the cheapest?
Do they offer a guarantee on any work undertaken in their terms & conditions?
Do they offer to back up your data prior to working on your computer? Pizza Techs will often just wipe your hard drive by reinstalling windows. You should never have to lose data unless your hard is faulty or your data corrupt prior to repairs being undertaken.
I've seen quite a few examples of "Pizza Tech" work brought to me, by following the points above you can help reduce the risk of being caught out.
keep looking »