Bluefish Computer Services supply and install Wireless IP Cameras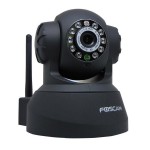 into the home or small business. Our cameras are designed to deliver live video and audio through the internet to a web browser or smartphone.  We also install third party recording applications on a local network PC.
We use cameras which are reliable and have a reputation for the ability to outperform and outlast similar cameras. Our cameras:
Provide high image & video quality (Display resolution: 640 x 480 Pixels (300k Pixels))
Support WEP, WPA & WPA2 Encryption
Support audio and can be used with an external microphone
Allow for remote viewing & recording over the LAN or via the internet through PC and mobile devices
Allow remote Pan/Tilt control (Pan:270deg & Tilt:120deg)
Support night vision (up to 8 meters) via auto IR-LED illumination
Support Infrared Motion Detection
Are Wi-Fi compliant with wireless standards IEEE 802.11b/g. Wired ethernet connection can also be provided
Affordable Solutions
Wieless IP cameras don't have to cost a fortune. A typical 4 camera solution can be installed for as little as £525 and a single camera as little as £172. If you'd like more information, please contact us.