Bluefish Computer Services is based in Chichester, West Sussex.  Bluefish offers friendly, fast and reliable mobile computer repair and maintenance services to Business and Home Users, in and around West Sussex.
Our Service Area (click on the map for a larger view):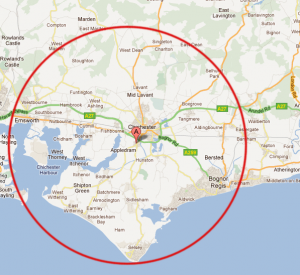 As well as Chichester we offer our services to the surrounding areas such as; Bosham, Fishbourne, Donnington, Southbourne, Emsworth, Wittering, Bracklesham, Selsey and so on.
We are fascinated with fixing and would love the opportunity to fix, setup or upgrade your desktop computer, laptop, peripheral devices or wireless network.
We have a patient and personable approach, we will take time to answer your questions – discussing problems with you in a no-nonsense way and without the techno-babble.
We're open 7 days a week from 08:00 to 20:00, on the phone 01243 216313 / 07858 035659 or by email [email protected] We would be happy for you to contact us discuss your needs and arrange for one of our technicians to visit you at home or work.